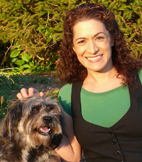 Parvene Farhoody
and her rescue dog Cassidy.
Parvene Farhoody, MA, CPDT-KA, CDBC
Parvene Farhoody has been training for more than thirty-five years. What began as a hobby became her life's work when she started her own training and behavior business in 1992. Today, Parvene owns and operates Behavior Matters,® Inc., a Behavior Consulting, Training, and Education service in New York City.

Parvene work with, consults on, and designs training protocols for many species including cats, birds, horses, and humans; however, the majority of her work remains with dogs. Whichever non-human species involved, her job always includes teaching human caregivers how to work with the animals in their care so that they can have great relationships with their companions.

Parvene has a Masters in Psychology with a concentration in Animal Behavior and Wildlife Conservation from Hunter College and is presently pursuing her PhD in Learning Processes and Behavior Analysis at Queens College in New York City where she is also an Adjunct Professor.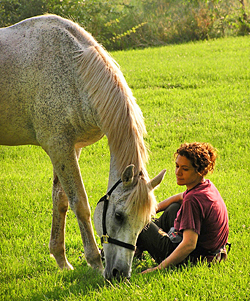 She is a Certified Pet Dog Trainer (CPDT-KA) through the Certification Council for Professional Dog Trainers, and a Certified Dog Behavior Consultant (CDBC) through the International Association of Animal Behavior Consultants. She is a member of the Association for Behavior Analysis International, Animal Behavior Society, and the Animal Behavior Management Alliance.

Parvene is Past President of the Certification Council for Professional Dog Trainers (CCPDT), which is the only independent certifying body for dog trainers in the United States. The CCPDT works to standardize the profession by establishing criteria for dog trainer education. Part of her duties with the board included writing and reviewing the annual examination. She was also Chairman of the Exam Committee and was responsible for initiating advanced certification examinations for the CCPDT.

Parvene dedicates time to shelter and rescue work and is certified through The Community Animal Shelter Association (CASA) in several areas: As a Certified Assess-A-Pet™ evaluator, Parvene conducts behavioral assessments of rescue and shelter dogs for placement with families. As a Certified Train-to-Adopt™ educator, she instructs shelter staff and volunteers in training of shelter dogs and on how to improve the quality of life for all the animals in their care. CASA's Training Wheels™ program also provides neighborhood communities with free food, equipment, and access to medical assistance and training.

In addition to consulting with shelters, volunteer groups, professional trainers, and the public, Parvene has been featured on local and national television, including NBC News and The Learning Channel, and has worked with NickelodeonJr. on- and off-camera to create information spots about raising dogs with children. She writes articles for the public and is presently conducting scientific research on the effects of spaying and neutering dogs and on the use of non-aversive interventions to reduce inter-dog aggression.

From 1992 to 1996, Parvene worked extensively with children from Kindergarten through 5th grade in public and private schools throughout Baltimore, Maryland. She designed and implemented teaching systems grounded in the principles of positive reinforcement. The curricula were designed to motivate student to learn using the same scientific principles she applies to all training.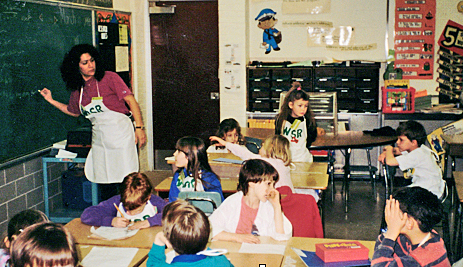 Parvene shares her passion for behavior analysis and behavioral technology by giving lectures, seminars and workshops around the world teaching trainers how to be more effective and efficient through the use of humane, science-based teaching.

Ms. Farhoody resides in New York City with her husband Mitch Gyson an extraordinarily talented painter and animal portraitist.